Audio Service

A premium level instrument with features not found in many other manufacturers' products. Intuitive programming enables the Audiologist to set the instruments up to give extraordinary sound quality and a smart phone app can allow the user full control over what is heard – and what is not.
Audio Service instruments are not available from national suppliers so their top of the range prices won't extend as far as this stunning product.
Watch Audio Service's corporate video to gain an understanding of their philosophy
G5 hearing system generation from Audio Service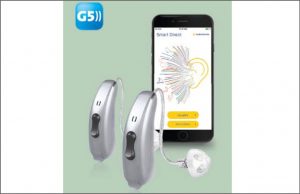 We communicate from person to person. We are increasingly using technical tools, so that modern communication is more often occurring via smartphones, tablets and PCs. Advanced hearing aids adapt to this by connecting to smartphones and becoming digital assistive devices or Hearables such as the G5 technology generation from AS AUDIO-SERVICE GmbH. In April 2018, Audio Service is launching additional RIC and BTE models with the G5 chip.  
Developers have engineered the G5 technology generation with smart features and connections that effectively combine audiological utility, connectivity and convenient smartphone and app links. Further development of the tried-and-tested AudioLink technology is the basis for the processing of all acoustic data – modeled on nature. G5 has an extended dynamic range of 113 dB. Modern chip architecture in 40-nanometer design allows unprecedented precision.
Natural perception of one's own voice  
The Occlumatic feature can help hearing aid users get used to hearing aids more easily. To do this, G5 hearing systems learn to recognize the voice of their wearer by storing their sound pattern. When the hearing aid user speaks, the amplification and compression are adjusted instantaneously. This way, the user's own voice sounds more pleasant with Occlumatic and is perceived as more natural. This also has a positive impact on spontaneous acceptance and overall satisfaction.
Significantly more hearing comfort and sound quality  
With the Smart Direct app, hearing systems use G5‐ technology to connect directly to the user's smartphone without an additional device, thereby enabling direct audio streaming via iPhone. The transmission quality of streaming has been significantly improved compared to G4 (High Quality Stereo Streaming).
With direct audio streaming, the hearing systems become stereo‐headphones. Telephone calls are transmitted directly into both hearing aids in excellent sound quality, as are instructions from navigation apps, for example, and music lovers can enjoy wireless sound experiences. An equalizer in the Connexx fitting software supports personal preference settings.
The transmission takes place in both directions, i.e. the hearing system status can also be displayed on the smartphone.
Comfortable hearing, even while in motion  
With MotionSense, the G5 hearing systems evaluate the motion sensor in smartphones from an audiological aspect. The goal is even more precise assessment of the actual situation. For classification under audiological aspects, MotionSense provides additional input for the automatic situation control feature, enabling multi-dimensional adjustment of the adaptive hearing system parameters. For example, the omnidirectional mode provides 360degrees of perception when jogging or biking. When the movement is interrupted, the G5's automatic situation control feature automatically switches to a directional mode.
Improves spatial awareness  
SpatialSpot increases the sensitivity to ambient noise and enhances spatial perception without compromising directionality. Dynamic extension of the characteristics of the AudioTronic multi-microphone system solves complex listening situations with multiple conversation partners or different soundscapes. This expands the auditory radius. G5 works dynamically with frontal focus while mixing in spatial portions. This way, hearing aid wearers can focus on the conversation, but also respond to other ambient noise.
As with all directional operations in the G5‐technology, SpatialSpot is enhanced by modern, highly sensitive digital MEMS microphones.
With the Smart Direct app, the hearing systems can be comfortably and unobtrusively operated via the smartphone. In addition to the basic functions, there are many options for customizing the hearing systems and increasing the ease of use.
For the hearing care professional, the Smart Direct app creates an environmental profile of the hearing aid wearer for aftermarket support. This hearing environment profile provides information about the daily noise level, for example.
The new Smart Mic is the addition for practically all Bluetooth®‐capable Android smartphones for audio streaming and thereby listening to music in stereo quality. In challenging hearing environments, the Smart Mic can be used as an additional microphone (conference microphone). It also allows hands-free telephone calls.
For connecting to non‐Bluetooth®‐capable entertainment devices such as TV or stereo systems, the Smart Transmitter 2.4 -, which transforms the audio signal into a Bluetooth® signal, is interposed. This allows direct audio streaming with various household media for watching movies, listening to audio books or music in stereo.
More models with G5‐technology
Wearers of the Sun 16 G5 already appreciate these benefits and amenities. As of April 2018, AS AUDIO‐SERVICE GmbH will market a further RIC with the Mood hearing aid, as well as the DUO, a BTE hearing aid with the G5chip.
The three upper tech levels 8, 12 and 16 can be selected. In these tech levels, direct audio streaming, Occlumatic and enhanced input dynamics are available through improved analog‐/digital‐conversion. MotionSense can be used in tech level 12 or higher and SpatialSpot can be used in tech level 16.
"Following the market launch of the Sun 16 G5 at EUHA 2017, we will be offering other models of the new G5 technology generation starting in April 2018. Our customers are excited about the increased acceptance through Occlumatic and especially appreciate the stereotransmission via Bluetooth® with direct audio streaming," said Thomas Mettang, Managing Director of AS AUDIO‐ SERVICE GmbH.
The Bluetooth® name and logo are registered trademarks of Bluetooth SIG Inc. Any use of this brand by AS AUDIO-SERVICE GmbH is under license. Other trademarks and names belong to their respective owners. iPhone is a registered trademark of Apple Inc. in the US and other countries. Android is a registered trademark of Google Inc.
---
Receiver In the Canal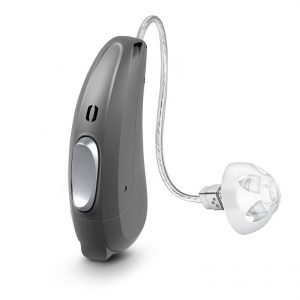 The Mood RIC hearing systems feature wireless functionality, so they can be wirelessly connected to other audio devices and operated by remote control. A smartphone app is available to allow the wearer to conveniently adjust hearing programs and volume. Twin directional microphones allow speech to be identified in a 360 degree radius and a convenient rocker switch allows easy user control.
The Mood 16 G5 hearing systems can be operated with standard disposable batteries or there are two options for rechargeable batteries.
---
SUN 16 G5
Sun 16 G5 hearing systems are the best companion for your daily life. The modern design of the small housing can be worn discreetly behind the ear. The innovative streaming possibilities of the G5 technology allow you to be interconnected with everything that moves you through your day-to-day life (such as telephone calls, music or navigation app announcements). With the Smart Direct app, you have convenient remote control right at hand. In addition, the hearing systems can access the movement sensors of the smartphone and automatically select the best mode.
Available with a size 13 battery, 48 signal processing Channels / 20 frequency channels and 6 hearing programs this is the latest available technology from Audio Service.
---
QuiX 
quiX  is the alternative to the RIC hearing system. The small uncomplicated CIC hearing system sits directly in the auditory canal, which makes it virtually invisible when worn. The Tech Level 16 technical features ensure an impressive range of comfort features.
---
DUO
DUO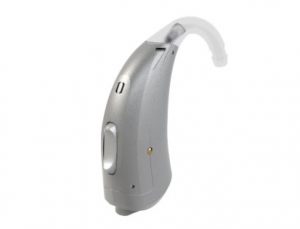 is an  exclusive hearing system. The classic design premium behind-the-ear hearing systems offer a wide range of individual hearing system adjustment options. The DUO G5 hearing systems can alternatively be operated with disposable or rechargeable batteries. They feature wireless functionality, so they can be wirelessly connected to other audio devices and operated by remote control. A smartphone app is available to allow wearers to conveniently adjust hearing programs and volume.
---
In The Ear 
The Icon 16 G5 in-the-ear hearing systems are unique in that they not only feature cutting-edge technology but are also extremely cosmetically discreet. The CIC format allows them to disappear into the ear making them almost completely invisible.
The Ida G5 in-the-ear hearing system features the latest in audiology technology and Bluetooth. The G5 technology ensures relaxed hearing pleasure, even in acoustically demanding situations.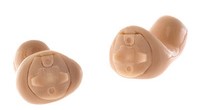 Ida hearing systems feature  wireless functionality so that they can be wirelessly networked and remotely operated with other audio devices, such as television, music systems or telephone.
The programmable rocker switch guarantees user-friendly operation. Ida 16 G5 hearing systems can be operated conveniently with the Smart Remote App by Smartphone app. The hearing aid Ida HYPE 16 G5 is ideally suited for advanced hearing loss.
Sina are in-the-ear hearing systems with sophisticated, cutting-edge audiological and technical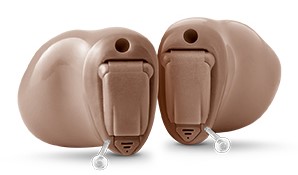 features housed in the smallest of spaces. The hearing systems are the ideal solution for anyone who wants state-of-the-art technology for the most pleasurable hearing experience. They are  available with optional wireless function, allowing them to be wirelessly connected to other audio devices and operated by remote control. The Sina 16 G5 hearing systems can be operated without any accessories by smartphone with the Smart Remote App.
---
Smart Connect
Handling at the press of a button
The
new Smart Connect
with its simple operation gives you a wireless connection with many communication media. Listening to music, watching television or phone calls, also over the Internet – it's all possible.
Smart Connect can be connected to up to two Bluetooth telephones. Incoming calls are recognized and forwarded to the hearing systems. Simply press the multi-function button and you can use speaker-phone mode. This uses the speakers of the hearing systems and the Smart Connect microphone.
---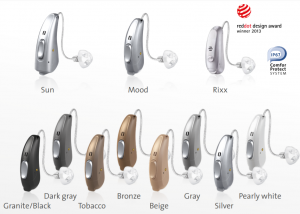 There are too many more Audio Service devices to be listed here. They cover a wide range of technologies, styles and price levels so there is bound to be an Audio Service hearing system to suit you.
Freephone on 0800 999 3277

  or contact me here