INTELLIGENT TODAY
SMARTER TOMORROW
THE NEW WIDEX EVOKE™
Welcome to the era of intelligent hearing, where the quality of your listening experience evolves in real time and real life. Your EVOKE keeps learning from you as you use it, so you hear sound perfectly.
The world's first truly smart hearing aid. It intuitively helps you hear well today. Tomorrow? You can hear even better. It's a paradigm shift, evoked by Widex. And you.
Widex 
hearing aids
 don't just sound spectacular. They look spectacular too. Combining technology with functionality and aesthetics is a typical attribute of the Widex design.
Of course, for Widex good design doesn't just apply to the outside of our hearing aids but the inside as well.
From the drawing board to the finished article, every aspect of a Widex hearing aid is designed to work, perform and sound as close to perfect as possible.
---
THE BASIS OF EVERYTHING WE DO
Like everyone, people with hearing loss are exposed to a wide range of different sounds and at different levels. So it's important to have a hearing aid that helps you hear soft sounds while making sure that loud sounds are not too uncomfortable.
The Widex Sound means that you can hear a full spectrum of sounds – from background noise, to whispers to voices in a crowd.
But it goes beyond that. We make sure that all our hearing aids can be fit so that they suit your exact hearing loss and the way you listen. And that they are designed to be comfortable to wear. So you can hear the most natural sound possible. Whoever you are and wherever you are.
---
THAT'S THE WIDEX SOUND.
LIVE LIFE LARGE
What makes UNIQUE better than other similar hearing aids?
A wider sound picture – so you can hear both soft and loud sounds in comfort
The best wind noise reduction system available, so even in windy environments you can still hear speech
It detects your listening situation automatically and makes sure you hear the right sound at the right time in the right place


---
WIDEX BEYOND™ – COMBINING THE BEST OF BOTH WORLDS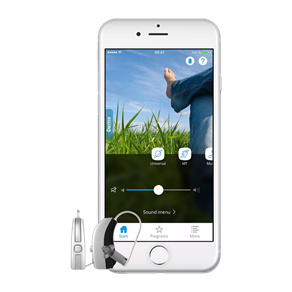 Widex hearing aids already give you the best sound. Now they also give you the best ways of staying connected to the world around you.
The new WIDEX BEYOND™ is the world's best sounding made-for-iPhone hearing aid. And with multiple ways of connecting through Bluetooth, DEX communication devices and Telecoils, your world never sounded so good. The BEYOND App also works if you have an Android phone.
Little wonder that hearing users have already rated BEYOND significantly better than similar solutions.
---
Click on the logo to visit Widex's website