Value for Money
As you would expect, All Ears Hearing are passionate about offering excellent value for money.  As you would also expect, we won't compromise service by cutting prices to the bone.
Oticon More, Unitron Discover, Starkey Livio AI  2400, GN Resound Quattro 9, Siemens Signia Pure x 7 at £3500 per pair.
host of other top range hearing aids such as Phonak Marvel 9,  Widex Moment 440, Bernafon Viron 7 at £3250 per pair.
…and the stunning new Livio AI  EDGE- the world's only fully self adjusting is hearing available now at £3750 per pair. 
All of our prices include a full after care package which involves a hearing health check every six months, re programming of the hearing system including alterations to speakers and domes as your prescription requires.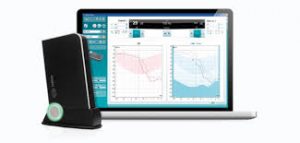 Pure Tone Audiometry is the only way to accurately assess your prescription and whether it has changed – which is why it is mandatory to use it  to establish your prescription in your original consultation.
Price Promise
It is impossible to select the correct hearing system based on a price list. All Ears will only discuss possible solutions once a full consultation and diagnostic Pure Tone Audiometry has taken place.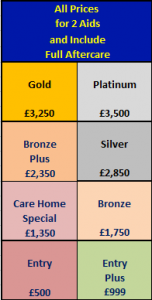 Simply halve the price for purchases of single aids.
We offer a price match with any competitor providing the same level of service, which must include a free home visit service. Our Platinum  range includes some technology that National suppliers may struggle to provide, and includes free batteries and extended warranties with some devices.
I am also flexible enough to tailor  the service if the price is of paramount importance. You have the option to purchase just the hearing aids, with the fitting, and follow up service. You can then have all the additional regular check up appointments on a pay as you go basis.
Guarantees
Whilst very hearing system comes with a two years, some of the more advanced ones come with up to five years manufacturers warranty. We can also offer guarantee extensions on some products. Your options will be explained fully at the time of prescribing your solution.
Choice
We can provide any make of hearing aid on the UK market, however be aware that not every device suits every loss, so please be careful when viewing web or advertising content that recommends hearing aids without any prior knowledge of your prescription or listening requirements, or choosing systems based on price and not suitability…. the most cost effective hearing system is the one that works best for YOU!
Freephone on 0800 999 3277